S

tandard Steam Cleaning $50*
FREE Deodorizing 3 Rooms
Carpet Cleaning Up To 30 sqm
Walk on your new cleaned carpet now


OZ Carpet Cleaning Solutions – Best and Professional carpet cleaner in Melbourne
When you begin to notice your carpet smell, looking old, or dirty, then you need to clean it. This is not like the regular vacuuming; you need the help of a professional carpet cleaning Melbourne service. Experts carpet services are time-saving, simple, improve comfort, and extend the life of your carpet. Carpet cleaning Melbourne use high-quality equipment in combination with steam cleaning to deliver exclusive service. We also provides same day carpet cleaning service.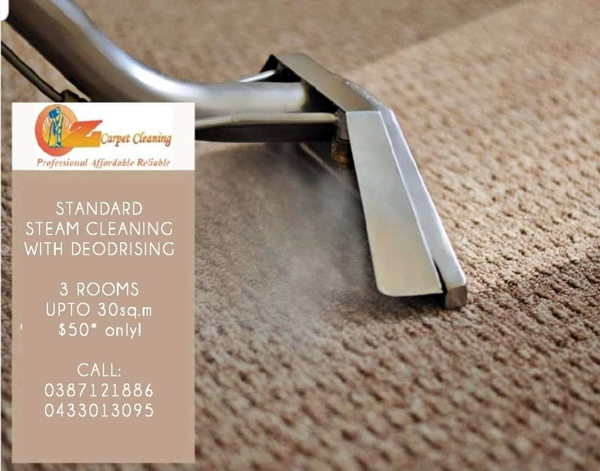 We Are Specialised In Removing Stains Like:
Tea & Coffee Stain
Wine Stain
Blood Stain
Urine Stain
Vomit Stain
Makeup Stain
Ink Stain
Paint Stain
Oil Stain
Wax Stain
Your carpets are full of germs, bacteria, mold, and other pathogens that can cause sickness to you and your family. The only way to get rid of them is through carpet steam cleaning done through a very intricate procedure that reaches deep into the carpet fabrics.
Standard Clean
Maintenance/Refresher clean. Recommended every 6 months,Not recommended for stained or light colored carpets.
Pre- Inspection
Carpet Steam Cleaning with Hot Water Extraction Systems
Pre Spray Carpet Cleaning Solution
Deodorising
Deluxe Clean
For Carpet with medium to heavy soiling or stains or light colored carpet not been cleaned since 6 months.
Pre- Inspection
Pre Vacuum Carpet Area
Pre Spray Heavy Carpet Cleaning Solution
Carpet Steam Cleaning with Hot Water Extraction System
Deodorising
Super Deluxe Clean
For Carpet with very heavy soiling and stains, it will probably give your carpet a new life.
Pre- Inspection
Pre Spray Heavy Carpet Cleaning Solution
Pre Vacuum Carpet Area
Scrubbing Carpet with Rotary Scrubber
Carpet Steam Cleaning with Hot Water Extraction System
Deodorising & Sanitizing
Krish R
"Service is incredibly warm, professional and very skilled. It looks and feels so fresh, clean and new! I would definitely recommend this service. Their price extremely reasonable for the service they provide."


Ashley Lo
"Technician was very polite and punctual. Got treated like a very special client. Got a very professional treatment from the point of booking till finish clean. Very professional service received at very reasonable cost."


Akila Wijesooriya
"Professional cleaners with a competitive pricing. Quality customer service by clearly explaining the job and their pricing structure at the time of the booking. No hidden fees and surprises at the end."


Luke Cooney
"Good quote, great job done by Matt, house smells nice and most importantly he got all the stains we were worrying about. Strongly recommending Oz Cleaning."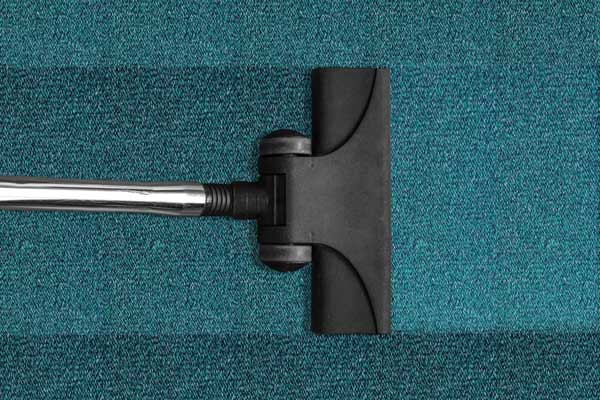 OZ Cleaning Solutions has been in Cleaning business for many years and all of our carpet cleaners are highly specialised in cleaning industry with more than 10 years experience. We specialise in office and domestic carpet, rug, mattress, upholstery and end of lease cleaning. We pride ourselves on our high criterion of service so all of our professionals have been skilled to a high standard and clutch industry recognized qualifications.
– *Special deal prices are subject to GST.
– Getting an appointment is subject to availability. Conditions apply
– ask when making a booking Use a code 'Autumn-Winter Special 2021' when you book, also find out if your suburb is Eligible for this special deal.
– This Deal cannot be used with combination to other deals.
– Under $100 worth of job, We accept cash direct to the technician on site.